In our 10th developer update, we want to highlight what you can expect from the upcoming client update for Catan Universe and we want to assist those who still have issues finding opponents in Automatches.

Last Week Jan 30th - Feb 5th
Based on our efforts to engage in direct chats with Catanians, we noticed that some of you still need help finding opponents in Automatches. The main reason seems to have been strict filter settings which didn't allow those Catanians to find opponents.
If you should also have issues finding opponents, please make sure to set the filters as it is seen in the screenshot below: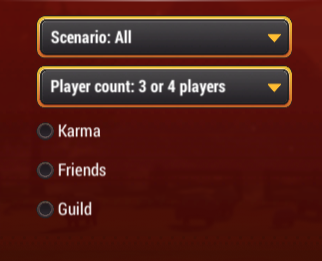 If the button next to Karma, Friends, or Guild is yellow, you have activated this filter. For example if the "Friends"-filter is active, auto-matchmaking will only match you with players from your friendlist! Tap or click on the buttons to deactivate those filters. Using the settings above will give you the best chances to find matches quickly, as this turns all filters off.

This Week Feb 6th - Feb 7th
Our team is currently putting the finishing touches on the next client update. This update will focus on how the clients can more reliably re-connect to our servers. It will also again remember the password properly when logging in. This means you won't have to enter your password again after closing the app or losing connection.
This client update is the next step to further increase stability in multiplayer, especially when it comes to connection losses and host switches. We are aware that we still have to do some more work there, but our team wants to put out this client update to resolve some of the issues now, while we continue working on the remaining ones on the server side. We will let you know once the update is available to download in the coming days.
Please do not hesitate to reach out to us on our discord server if you should face issues with the game: https://discord.gg/catanuniverse